Recommend one: [Mu Xicheng] solid wood furniture American one table four chairs dining table pure oak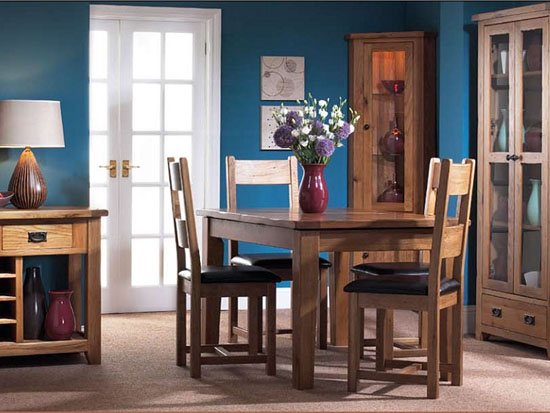 Market price: 12330.00 yuan / sheet

Promotion price: 4110.00 yuan / sheet

Recommended reason: Muxicheng one table four chair dining table is made of high quality oak imported from Russia, the texture is particularly tight and hard. This set of tables and chairs is characterized by a relatively bright mountain-shaped wood grain and a good texture on the surface of the hand. The design of a table and four chairs is simple and simple, and takes up little space. It is also suitable for small-sized restaurants. The chair is also equipped with leather sponge cushions, which makes you feel warm when eating New Year's Eve dinner in cold winter.

View product details

[Mu Xicheng] solid wood furniture American one table four chairs dining table pure oak

Other platforms 4995 Qi family 4110 yuan

Promotion price: 4110 yuan / sheet

Market price: 12330 yuan / sheet

Have been sold: 245

Product Evaluation: ★★★★★

Buy now to see more similar products

Recommendation Two: [Zongjiang Workshop] All-solid wood American furniture stretch round dining table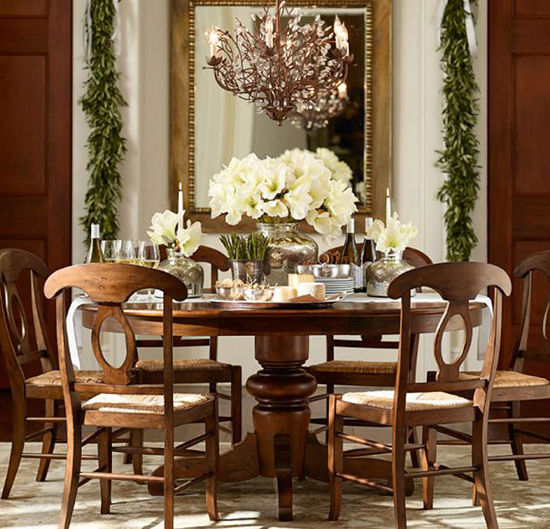 Market price: 5500.00 yuan / piece

Promotion price: 3800.00 yuan / piece

Recommended reason: The round table of pure solid wood in Zongjiang Workshop is simple and elegant. The design of the legs of the round table is very classical and beautiful, but the whole has the original texture of the wood. Round tables are more popular with middle-aged and older people. In their conception, "round" means reunion. Sitting at a round table for dinner is the only way to have the satisfaction of a family reunion. This dining table can be large or small, if you come to the house, you can also stretch to transform into an elliptical long table.

View product details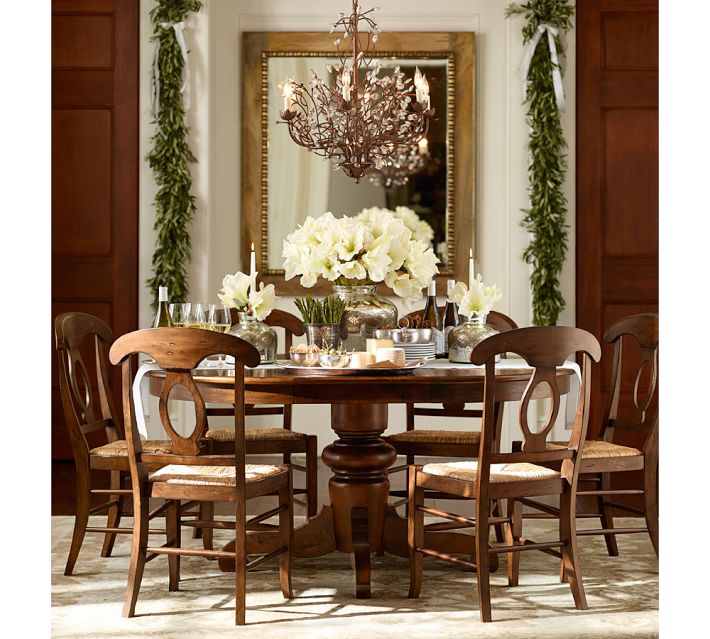 【Zongjiang Workshop】 Full solid wood American furniture stretch round dining table ZJ-YCZ01

Snapped up

Mall price: 3800 yuan / piece

Market price: 5500 yuan / piece

Has been sold: 0

Product Evaluation: ★★★★★

Buy now to see more similar products

Recommend three: [Bodhi Island] Bai Yuntang series Chinese rural style cedar HY602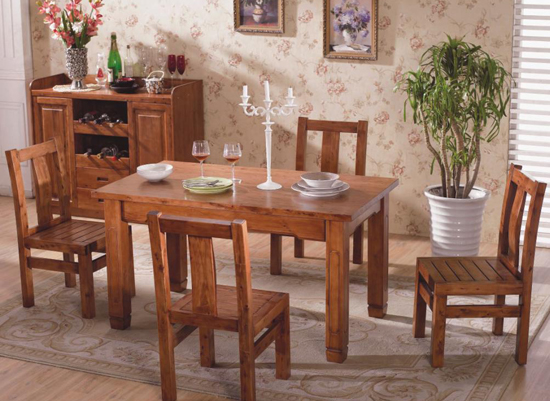 Market price: 7760.00 yuan / sheet

Mall price: 4668.00 yuan / sheet

Reason for recommendation: This dining table and chair of Bodhi Island is made of high-quality cedar wood, delicate and hard wood, clear annual ring texture, warm and delicate color, caressing like the skin of young children, comparable to rosewood in the wood world. The design of this set of tables and chairs is simple and bright, and the square is square and square, and there are cleverly portrayed details. Bodhi Island Furniture has always advocated the use of natural charm to infect customers, and this set of furniture brings us this most perfect feeling.

View product details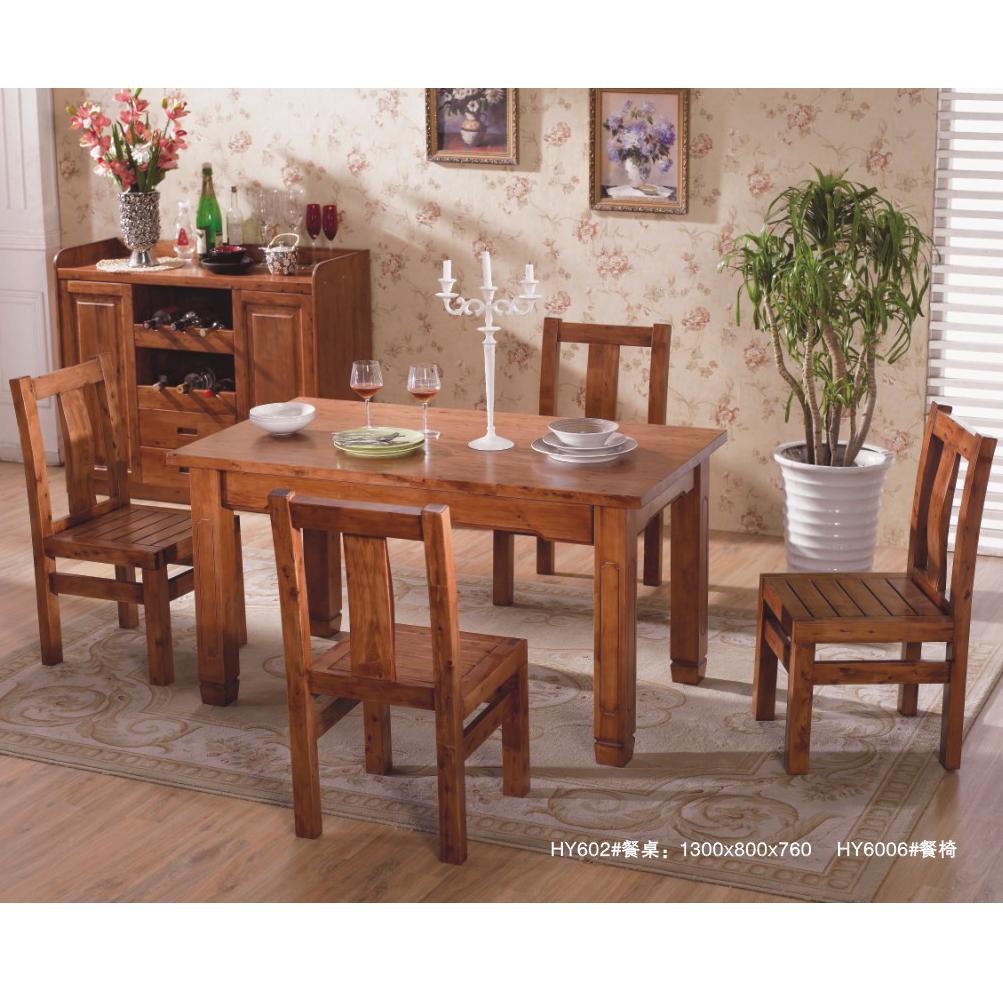 【Bodhi Island】 Baiyuntang series Chinese rural style cedar HY602

Mall price: 4668 yuan / sheet

Market price: 7760 yuan / sheet

Has been sold: 201

Product Evaluation: ★★★★

Buy now to see more similar products

Recommendation four: [Jumeiyinshang] gilt years series solid wood dining table / dining table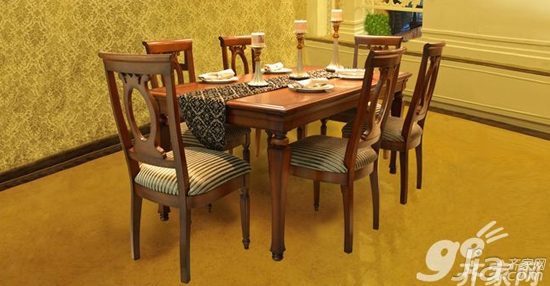 Market price: 7680.00 yuan / sheet

Mall price: 5120.00 yuan / sheet

Recommended reason: The main material of this dining table and chair is Liriodendron tulipifera. The texture is delicate and even, the texture is clear, the material is soft and moderate, and the aroma it emits can effectively resist insects and absorb harmful air. Urban people are particularly helpful! This dining table and chair is elegant and stylish. The furniture dealer's complicated solid wood carving is natural and beautiful, and the composition is realistic. It is hand-carved by a professional carver who has many years of carving experience and skilled technology. The traditional craftsmanship is matched with excellent skills and elaborate craftsmanship, making the table look distinct, smooth and delicate.

View product details

[Jumeiyinshang] gilt years series solid wood dining table / dining table

Mall price: 5120 yuan / sheet

Market price: 7680 yuan / sheet

Has been sold: 193

Product Evaluation: ★★★★

Buy now to see more similar products

Recommendation 5: [Jumeiyinshang] Oka red oak solid wood dining table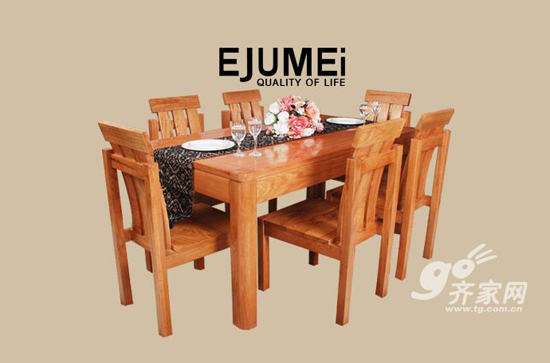 Market price: 4080.00 yuan / sheet

Mall price: 2720.00 yuan / sheet

Reason for recommendation: This dining table is made of high-quality red oak, which retains the freshness of red oak and the smart texture contained in the simplicity. The original color reveals a simple and refined charm, which is connected with the essence of modern minimalist style, and also coincides with the spirit of urban people pursuing freedom and returning to nature. The design of the long table can be matched with six chairs, and three generations of people can sit around a table to eat without pressure.

View product details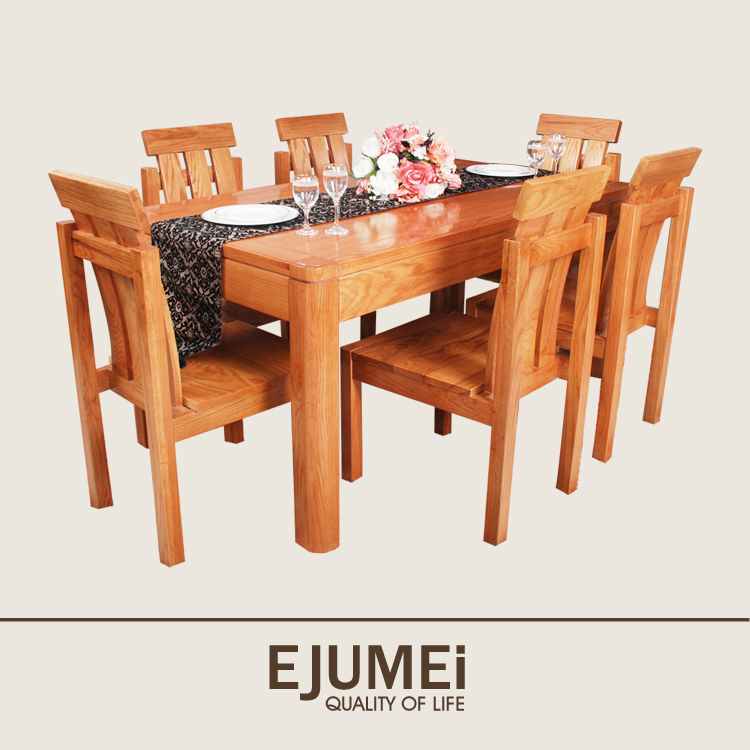 [Jumeiyinshang] Oka red oak solid wood dining table

Mall price: 2720 yuan / sheet

Market price: 4080 yuan / sheet

Has been sold: 79

Product Evaluation: ★★★★★

Buy now to see more similar products

Recommendation 6: [Home] All solid wood oval dining table and table BL-15-1.6CT
Market price: 28000.00 yuan / sheet

Mall price: 21000.00 yuan / sheet

Reason for recommendation: This European-style luxury dining table is made from 100% pure teak and imported from Indonesia. Teak enjoys the reputation of "King of Ten Thousand Woods". It is oily and bright, with noble and gorgeous color, straight texture, extremely wear-resistant, water-resistant, fire-resistant and corrosion-resistant. This luxurious dining table elaborately carved by precious teak has an elliptical table top, and the tabletop is carved with complicated and beautiful branches. The table legs are extremely luxurious, without concealing the exquisite craftsmanship of the carver, which is breathtaking. This set of tables and chairs is more suitable for European and American style villas, of course, the price is also expensive.

View product details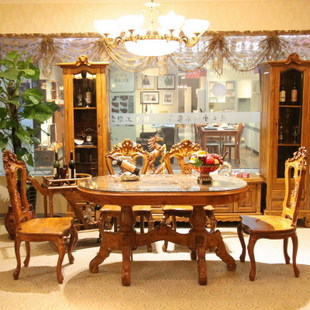 [House] All solid wood oval dining table dining table BL-15-1.6CT

Mall price: 21,000 yuan / sheet

Market price: 28000 yuan / sheet

Has been sold: 87

Product Evaluation: ★★★★

Buy now to see more similar products

What, the decoration still uses his own money? ! The Qi family is decorated in installments, with an ultra-low annual interest rate of 3.55% and a maximum loan of 1 million. Apply now to enjoy the discount

If you are interested in brand cooperation, content cooperation, and advertising of this website, please send an email to :.

Dining table residential furniture solid wood furniture furniture simple wooden furniture space beauty modern minimalist style Chinese pastoral style European pastoral style modern minimalist style characteristics fashion simple style modern minimalist style villa cypress wood furniture classical furniture carved villa furniture simple furniture fashion small apartment American pastoral style restaurant furniture American villa European-style villa luxury villa villa picture small villa modern villa Chinese-style villa European restaurant

The Leather Cover case with the protect function , and you could put the card slots ,it more convient you life .We sell Pu/genunine Leather Phone Case ,Card Slot Phone Case,folio Phone Case , Leather Mobile Phone Cover,Universal Leather Case.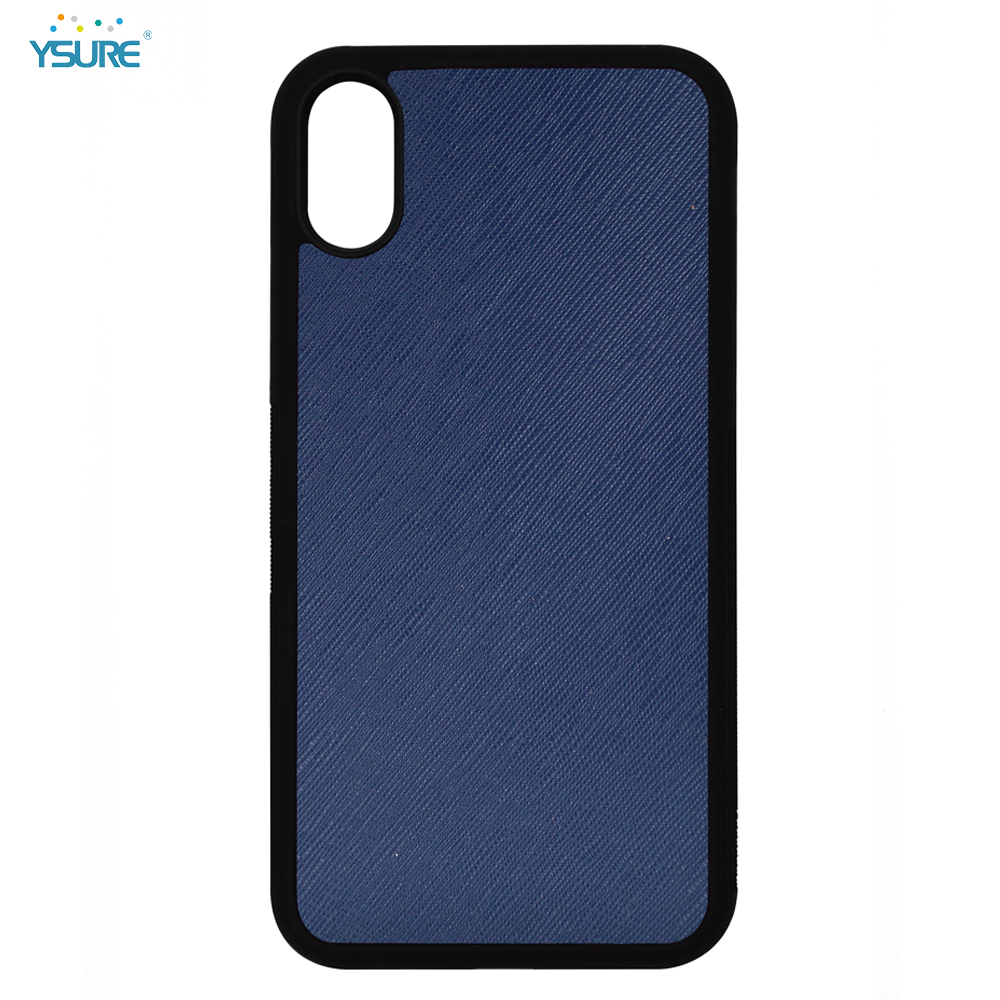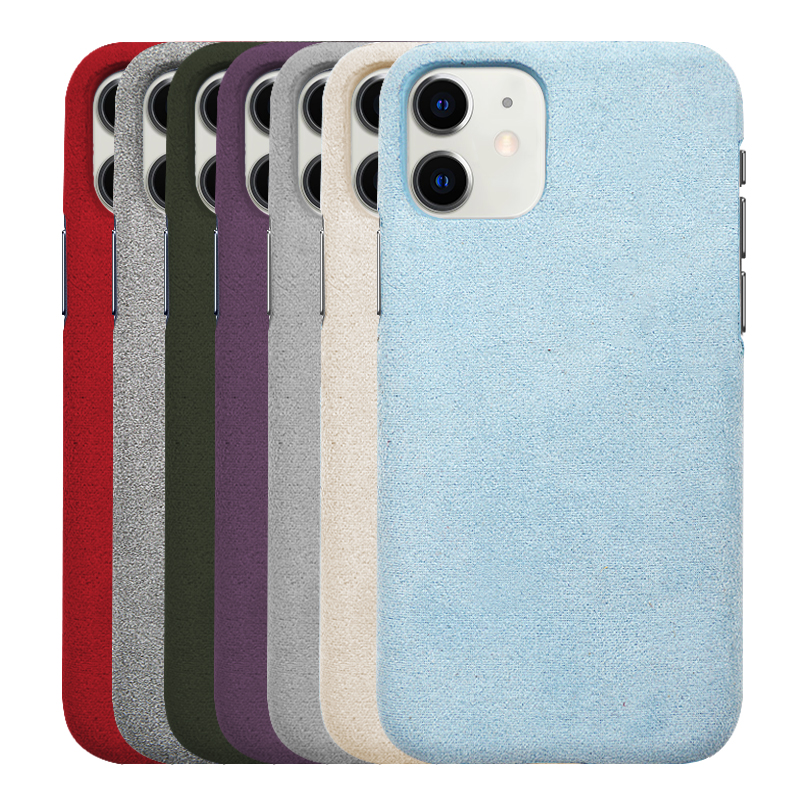 We employ the most creative designers and tech brilliant engineers to make the best cases. We believe our high-quality products with competitive prices will satisfy your needs.

The productive process :

Make the Products Mould –Cutting the fabric –Do the half products – Finish products – Cleaning –QC- Package – Shippment .

Leather Phone Case,Leather Phone Cover Case,Custom Phone Case,Leather Cell Phone Case

Guangzhou Ysure Electronic Technology Co., Ltd. , https://www.ysurecase.com